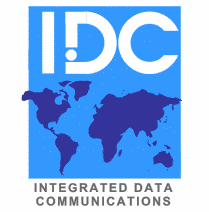 Welcome to IDCnet, the Internet service of Integrated Data Communications Ltd. We are a London-based provider of world-wide data communication solutions, based on UNIX and Windows NT technologies. We currently have over 1000 installations in many organisations seeking an edge in today's competitive market place.

In addition to our well established automated fax, telex and messaging software for UNIX and NT, we offer full Internet services tailored to the business community. Unlike the ever increasing number of ISPs chasing thousands of individual dial-up customers, our aim is simple: to provide the highest quality ISDN based service to the business user for whom the Internet really matters.

Our site explains who we are, and how we can put information technology to work for you in the information age.

© Copyright IDC 1997-2000, all rights reserved.
All product or brand names are trademarks or registered trademarks of their respective holders.
IDC Ltd, City Reach, 5 Greenwich View Place, London, E14 9NN
Tel: 02030 26 99 85 (+44 2030 26 99 85)
Fax: 02030 260266 (+44 2030 260266)
email: sales@idcnet.co.uk